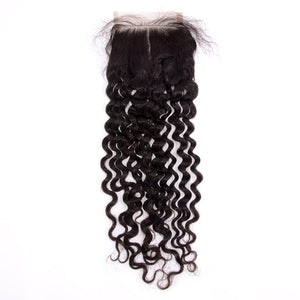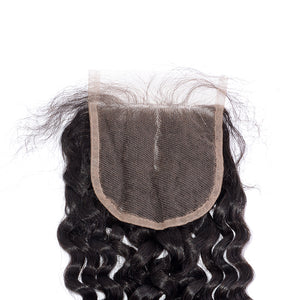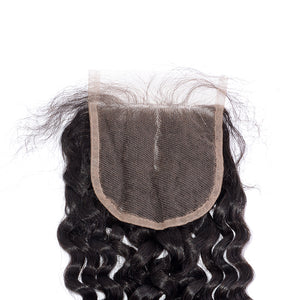 5x5 Curly Closure
BENEFITS OF WEARING A CLOSURE:
Protects your natural hair from heat damage, over-processing, and stress. This allows it to grow!

Allows you to try different colors and styles easily

Prevents sew-in wefts and braids from showing

No concern with blending and matching the texture to your natural hair

Creates a natural hairline


Eliminates bad hair days!
CLOSURE DETAILS
14"- 20"
Pattern blends with

 

body

 

wave, natural wave, and straight hairTransparent  Lace
Free Parting
100% Human Hair
Single Donor
Baby Hair
Knots Can Be Easily Bleached
120% Density
Virgin  Hair
Aligned Cuticles
Natural Black
Can Be Straightened and Dyed Easily

5 x5″ size
CLOSURE CARE:
Treat your closure as if it were your own hair. Be careful with chemicals, dyes, rinses, and bleaches. Use them sparingly as they may damage your closure, just as they would damage your natural hair.  

Gently swish your closure when washing. Do not rub or twist. Do not brush or pull hair while wet, as this will loosen the knots.

Allow your closure to dry naturally or use a low heat drying process.

Finger comb your closure, especially curly hair. Do not brush, as this can cause tangling and frizziness.

Tangling should not occur, but if it does, use a mild detangler or a moisturizing conditioner. Gently detangle using your fingers or a wide-toothed comb. Do not tug on the hair, as this will loosen the knots and cause thinning/balding of the lace/silk base.

Use a long satin bonnet when sleeping.